Google Apps Cloud-Based Productivity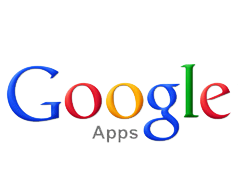 Applications in the cloud that make it possible to unite your team from anywhere!
Google has made it easy for your business to take advantage of cloud-based productivity. By doing your work with Google Apps, your projects will always be backed up and accessible by everyone on your team from the web browser of any device. Team collaboration has never been so easy. For a small monthly fee, billed per user, your team can collaborate like never before. Thanks to the Google Apps cloud-based model, gone are the days when employees are tied to workstations having to share projects over the network; instead, all your work is securely stored in the cloud.
Google Apps improves team collaboration by opening up the world of real-time communication. With every Google App, you can pull in team members in on text documents, presentation slides, spreadsheets, and more, to make edits together and leave comments in real-time. Incorporating real-time editing on your project workflow can save you several unnecessary steps, such having multiple review meetings. After you have experienced working with the cloud, you will never want to go back!
Use Gmail to Compliment Your Apps
Google has expanded Gmail to give you more versatility in managing your business!
Gmail is a secure cloud-based e-mail solution that ties together all of your Google Apps in Google Drive. For example, if someone leave a comment in your project, you will instantly be notified about it via email, allowing issues to quickly be resolved.
When you sign your business up for Gmail, every account comes with a personalized e-mail address and 30GB of cloud storage that you can manage from a dashboard, along with other business communication options including:
Text messaging
Integrated VoIP capabilities
Video chat
Instant messaging and more
Google Apps with Gmail have all the capabilities necessary to keep your company's workflow moving efficiently. Gmail also provides you with offline support that will allow you to access and continue working on your project, even if you lack an Internet connection.
Be on Time with Google Calendar
Manage everyone on your team with one easy- to-use calendar.
Keep everyone on a tight schedule and your business running smoothly with a calendar solution that connects everyone, in the cloud. This kind of cloud connectivity integrates Google Calendar with all the other Google Apps like Gmail, allowing team members to easily check everyone else's schedule for conflicts. Automatically find openings, and communicate with each other via Gmail, Google Doc, and Google Hangouts or any other Google communication solution. You can also use Google Calendar to keep track of events for your business and export those scheduled events to your website.
TechXpress is known for delivering efficiency. For more information about how integrating the Google Apps cloud-productivity suite into your business, call us today at (805) 541-4400.